The Rise of Digital Audio Advertising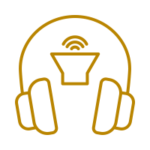 At a Glance...
With podcast reach in the UK set to reach 23 million listeners by 2023, it's clear there's a real opportunity within the digital audio space. So how can both brands and marketers embrace audio-first? Find out more in our latest blog.
As a relatively nascent media channel, podcast advertising has already solidified itself as a staple in a growing number of omnichannel marketing campaigns, and a powerful and persuasive tool. Undoubtedly fuelled by Covid-19 on-the-go 'escapism', audio-first formats offer the perfect distraction from reality, and the opportunity for brands to create a uniquely intimate connection with a user. So, what makes digital audio ads just so successful? And how do they differ from traditional marketing platforms? Here's why podcast marketing is here to stay. 
Back in 2017, there were just under 9 million podcast listeners in the UK. This number has since grown by 160%, with 23.3 million users expected by 2023, increasing to 28 million in 2026. The trend is not limited to the UK either. In the US, podcast consumption has reached an all-time high with 75% of the population now familiar with the term "podcasting", and 68 million users listening to podcasts on a weekly basis.
Audio advertising is by no means limited to podcasts. Broadly referred to as the delivery of ads in audio format, they can be streamed via a variety of online streaming platforms including music streaming apps such as Spotify, Amazon Music, Deezer & YouTube Music. As one of the leading brands in the game, you'll likely be familiar with
Spotify ads
, whose ads can be served to users listening to music or podcasts on any device, anywhere, at any time of the day. With over
406 million monthly active users
, 61% report to have discovered new brands and products on the platform. Yet whilst the number of brands marketing on audio platforms continues to grow, there remain reservations and common misconceptions, which we'll aim to debunk below…
"Audio advertising requires complex, costly creative resource"  
There are several types of audio ads that are important to distinguish, including digital audio ads and video ads. The latter is undoubtedly more costly, showing display ads on-screen before or during music and relies somewhat on visuals to reinforce the message. Whereas audio ads can be recorded by anyone, with any script, meaning they're inexpensive to build. With just 30 seconds to fill, the challenge isn't so much the cost, but more how to condense the important information to fill your slot!
"Audio advertising doesn't fit in with our current marketing stack" 
Digital audio is an inherently different channel to traditional, more visual mediums; the real benefit is the ability for advertisers to reach people in more places, with highly engaging messaging. The nature of audio adverts means that they have the power to tell something new about a brand or product, which lends itself to memory retrieval and brand perception, and ultimately more sales. So, it shouldn't be a case of choosing audio over social, print, search or another medium, but rather, how to strengthen the brand via omnichannel campaigns, programmatic or other. Media mix combinations are being pushed to new limits in the world of digital, especially in an era of real screen fatigue, and audio plays a big part in this. 
"The impact of audio advertising can't be measured" 
Podcasts and digital audio are often treated as an 'offline' channel, but there's more insight available to marketers than they think. Audio listeners are likely to be listening whilst doing something else – cooking, running, driving – and therefore unable to access the screen there and then. So it's important to put aside last-touch and click-based KPIs. Instead, there should be some consideration for view-through, 'listen-through', measurement, with a wider window to account for any lags. What's more, digital streaming services are putting their best foot forward in terms of speed and accuracy in reporting, and how-tos on getting started with measurement, so advertisers have plenty of support when starting out in the space.  
It's clear that people are listening, and online audio advertising opens a whole new realm of audience outreach for brands and marketers alike. Marketers don't need a big budget, high-tech equipment or skilled design to tap into the online streaming platforms, so why not see what digital audio has to offer for you today?  
Kate Lindars, Senior Performance Executive
Ready to improve your performance?
Reach out to one of our team to learn more about our services and how we can help your business thrive.